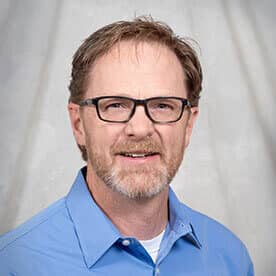 Dr. Jacques Beveridge is a Cheyenne native and has practiced medicine in Wyoming for more than 20 years. He was born and raised here in Cheyenne and graduated from the University of Wyoming. He received his medical doctorate from Creighton University School of Medicine and completed his residency at the University of Missouri at Kansas City. Dr. Beveridge is an adjunct clinical faculty member with the UW Department of Family Practice, and he sits on the advisory board for the College of Health Sciences for the University of Wyoming.
Dr. Beveridge specializes in minimally invasive gynecologic surgery including laparoscopy and hysteroscopy, as well as vaginal surgery. He is board certified and is a member of the American College of Obstetrics and Gynecology. Dr. Beveridge is a loving husband and father, has a passion for volleyball, and is an avid outdoorsman.
I feel so lucky to have had the doctors at the Women's Clinic for all three of my deliveries and GYN care. They provide high quality, compassionate, evidenced based care and Cheyenne is lucky to have such a great group!
I absolutely have loved it here! We just finished having our second kiddo and have worked with the vast majority of doctors here and they are all excellent!
I have been going to Dr. Storey for 14+ years. He is extremely caring, professional, and I trust him with my health and wellness 100%. The staff has always been friendly and professional. Wouldn't go anywhere else.